Painting is easy when you don't know how, but very difficult when you do.
-Edgar Degas
Well, I'm cent percent agree with Edgar Degas here. One who is an expert in something has to put all his/her efforts to make that thing beautiful because people have expectations from them.
On the other hand, when you know that you nobody is going to interfere in whatever you draw, believe me, that would be the time when your creativity flows naturally.
That's why we thought of doing something which makes people find out their creativity in form of different colours and shades.
As many you have told me earlier that you love seeing such creative happenings on the blog hence I'm gonna tell you what did we do on December 25, 2016. This is how we have celebrated our X-mas. 💓
This is my 4th event with KK. Here are the partners who bring happiness on people's face on this Christmas-
Blogging Partner- SumitOfficial
Event by- Kaffeinated Konversations
Designing partner- ACE Creatiwitty
Venue partner- PulpyPapaya
Motive of Art Cove Season 3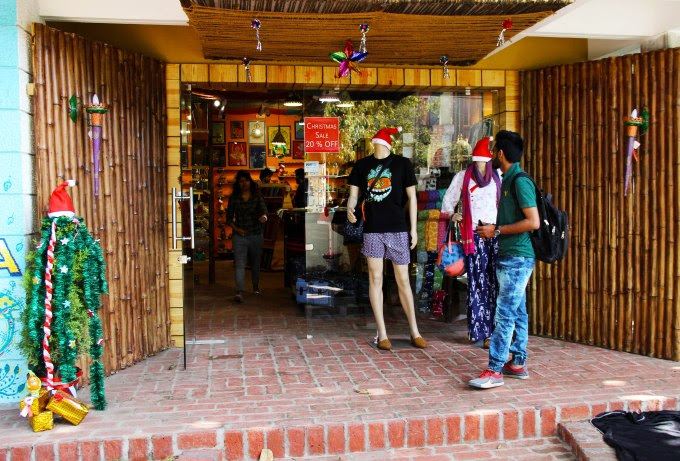 The event's motive was very clear which is to get immersed in the warm afternoon sun with sketching, doodles, painting, sculpture work, photography or anything you one wants to indulge in an artistic freewheeling.
You know we've seen people who get involved in their household and corporate responsibilities and gradually they are converted into robots. Isn't it?
We start getting involved in things which are important to us, that's for sure, but at the same time we have to compromise with something which we love to experiment.
Art. Painting. Colours. I mean they are so positive words that we get a fantastic feeling after listening to such words. And hence we've come up with Art Cove Season 3 after 2 successful seasons previously.
Now you just be thinking I'm talking about a competition here. Well, that's the beauty of our little approach with this initiative. This event is not a competition. Any event that comes under The Immersive Project doesn't support any competitiveness.
In fact, I'm shocked to see when I found they were kids who were too little at the same
time there were immature seniors present too just to showcase their creativity.
( By the way, you are going to see Manali in my next blog post which I promised you that I will share with you in my previous post. stay tuned for that! 😀 )
Isn't it great to see a whole lot of people from all age groups?
Let's play a Secret Santa
Okay. So this was an amazing idea Kavita told us a week ago that we'll all become each other's Secret Santa and will give each other a book.
Whoa! I've never got such excited for Christmas earlier the way I was this X-mas. It took me the hell lot of time to find out a book for someone who's already read hell lot of Libraries. Still, being a Secret Santa, I had to find and I could find out Lee Child's Persuader for Kavita.
Likewise, everyone has to give and take books. How wonderful it feels to get a gift for someone and at the same time, someone's going to gift you too. I was on cloud nine the entire week. 😅 This way we try to make each other's Christmas memorable with books.
Any Rules and Regulations?
The event was free and opens for all. For reasons in dealing with the maturity level of the subject, Kids above 10 years and adults were allowed.
What was the Theme?
So there were no particular topic or theme for this event. People were free to apply their creativity and imagination, which means whatever they feel they can make.
A beautiful charcoal portrait of Avisha by a a beautiful girl.
All in all, we celebrated the birthday of Christ in a colourful manner. I hope you've enjoyed it. Thanks for reading. Do share your views and how do you like it. ☺
If you like this post then please follow my blog, and I'd love to connect with you on-
Facebook : Sumit Yadav

Facebook Page : SumitOfficial

Twitter : @3SumitOfficial

Instagram : @SumitOfficial3

Or you can mail me at:
SumitOfficial3@gmail.com
(This blog post was originally posted on SumitOfficial's Blog on December 29, 2016)
Copyright © 2015-2018 by SumitOfficial
All rights reserved.